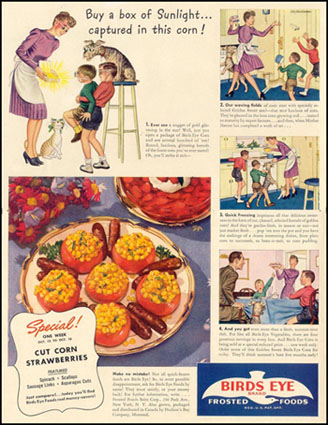 As a young adult, struggling to financially support himself through Amherst College by catching and selling frogs to the Bronx Zoo, Clarence Birdseye would later come into a great fortune within the food industry and be named 'The Father of Frozen Food.'
In 1912, Birdseye went on a fur-trading expedition to the Canadian province of Labrador when he realized that there was a fortune to be made in breeding and trapping foxes. He did just that for the next five years. He also did a fair amount of fur re-sale. Food supply in secluded parts of Labrador were little, so he ate things such as blackbirds, whale, lynx, lizards, starlings, alligator, beaver tail and skunk.
Birdseye was taught how to ice fish under thick ice by the native Inuit people. Once caught, he realized the fish froze almost instantly and when thawed, tasted fresh. Birdseye saw the preservative effects of extremely cold temperatures on fresh fish. He realized that this 'fast freezing' method could develop into a great way for people to have access to fresh food all year-round.
Fast freezing produced small ice crystals on food that did not damage the cellular composition and the food kept its' maximum flavor, color and texture. At the time, conventional freezing methods were done at warmer temperatures and freezing took longer – producing larger ice crystals, which ruptured the food's cell membranes.
In 1922, Birdseye conducted fish-freezing experiments at the Clothel Refrigerating Company. Soon after, with an investment of $7.00 for an electric fan, cakes of ice and buckets of brine, Birdseye froze haddock fillets. He established his own company, called Birdseye Seafoods Inc. to market his flash-frozen foods at a temperature of -45°F. Two years later, because of consumer lack of interest, his company went bankrupt.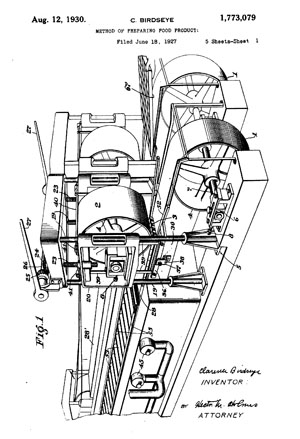 Later, Birdseye created a new company, General Seafood Corporation. He had also perfected a system of packaging fresh food into waxed cardboard boxes and flash-freezing under high pressure. Birdseye's newest invention, the double belt freezer, froze fish quickly. He received Patent #1,773,079 on August 12, 1930 for method of preparing food products for his invention.
Birdseye made a commercially practical freezer, portable freezers for stores, and created methods to package frozen products for sale to retail customers. In 1929, Birdseye sold his business to Postum Company for 22 million dollars. He continued his involvement on the research and development division and the company was renamed General Foods Corporation.
On March 6, 1930, a test marketing program began at a grocery store in Springfield, Massachusetts, under the name Birds Eye Frosted Foods. Twenty-seven frozen items were offered, including; fruits, fish, meats and vegetables. The marketing plan was a great success and by the late 1940s, many consumers were buying home freezers for their own personal stash of frozen food.
Birdseye concluded his achievements by stating he had taken "Eskimo knowledge and the scientists' theories and adapted them to quantity production." He was an imaginative inventor and was constantly creating practical applications from his observations. Birdseye obtained around 300 patents in his lifetime.