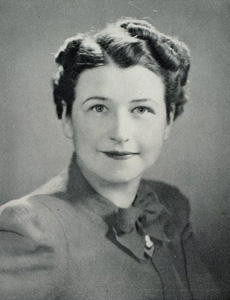 Chocolate chip cookies seem like a classic part of American baking like the apple pie, but actually these delicious cookies were not invented until 1933. Ruth Graves Wakefield was the woman who brought us these delectable treats. Built on the outskirts of Whitman, MA in 1709 as a collection booth for the toll road, Mr. & Mrs. Wakefield acquired the building in 1930 and transformed it into a restaurant and inn.  The newly renamed Toll House Inn was a charming respite for weary travelers, boasting comfortable lodgings along with homemade meals and fresh baked goods.
Ruth Wakefield's favorite cookie recipe was the Butter Drop cookies. One day as she was making the batter for these cookies, she discovered she was out of powdered baker's chocolate. She decided to substitute broken pieces of a Nestlé semi-sweet chocolate bar. She expected the chocolate to melt and absorb into the batter therefore creating chocolate cookies. The chocolate did not melt, but instead held its shape and became soft and creamy. These new cookies called Toll House Crunch Cookies by Wakefield became an instant hit with guests of the inn.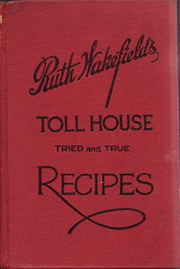 The recipe was published in a Boston newspaper and other papers around New England. As more people became aware of this new cookie creation, sales for Nestlé's semi-sweet chocolate increased. Nestlé and Wakefield came to an agreement to print the recipes for Toll House Cookies on their packaging. Part of the agreement was that Ruth would receive all the chocolate she could use for the rest of her life. Nestlé also began to score the chocolate and included a special tool for easy cutting. Nestlé continued to capitalize on the popularity of chocolate chip cookies and began producing Nestlé Toll House Real Semi-Sweet Chocolate Morsels in 1939.
Ruth Wakefield continued to run the Toll House Inn and cook for her guests. She produced a series of cookbooks which included Ruth Wakefield's Recipes: Tried and True, that had thirty-nine printings. She passed away in 1977 at the age of 74.
Today about 50% of the cookies baked in homes are chocolate chip. The chocolate chip cookie is also the official state cookie of both Pennsylvania and Massachusetts.