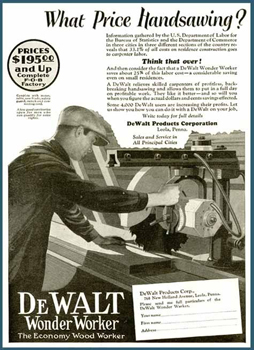 Raymond E. DeWalt followed in the family tradition working in mills and construction. The jobs were difficult and labor intensive. DeWalt was always looking for ways to cut costs, make jobs easier and be more efficient. His solutions often included creating machines to help with the work.
This ingenuity eventually led to DeWalt becoming the supervisor of a woodworking mill that produced a bit of everything from boxes to houses. The workload at the mill was more than the employees could handle. The company would not increase payroll to hire more help. DeWalt had to, instead, find ways to make his current staff more productive. To make this happen, DeWalt began designing more devices and machines.
One of these machines would become the first radial-arm saw. DeWalt created a special yoke which was attached to an electrical powered saw then mounted to a standard arm. The saw was then movable. It could be raised, lowered, slid back and forth, moved to an angle or tilted to make a bevel. This new saw was extremely useful and allowed one man to do the work of four. Labor costs were cut in the mill while productivity was greatly increased.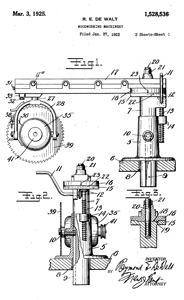 DeWalt continued to work on his creation. By 1922, he had perfected the machine. He applied for a patent for his saw on January 27, 1923. He was granted US Patent 1,528,536 on March 3, 1925 for Woodworking Machinery.
The invention was such a success that in 1924, DeWalt bought a manufacturing space and office in Leola, Pennsylvania. He named his invention the Wonder-Worker and the company marketed and sold this product. In 1929, the company moved to a larger, more modern facilities in Lancaster, Pennsylvania.
The DeWalt company was purchased by Black and Decker in 1960. The company has continued to thrive and create innovations in the saw and woodworking industries. Today, DeWalt sells more than 200 different types of power hand held tools.