"Anyone can become an inventor as long as they keep an open and inquiring mind and never overlook the possible significance of an accident or apparent failure."
– Patsy Sherman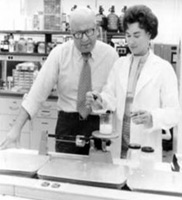 In 1953, two 3M scientists attempted to develop a new type of rubber for use in jet aircraft fuel lines.
Instead, they stumbled upon a substance that put heinous plastic seat covers to shame.
That's right: Scotchgard is yet another revolutionary product that was invented completely by mistake.
It happened one fine day as Patsy Sherman and Sam Smith toiled away on their experimental compound. As the story goes, a lab assistant dropped a bottle of the substance all over her lab shoes and quickly became annoyed that she couldn't clean it off with soap, alcohol or any solvent.
As the assistant's frustration increased, so did Ms. Sherman's fascination.
The new fluorochemical rubber was not only resistant to removal, it was also repellant water, oil, and  other liquids.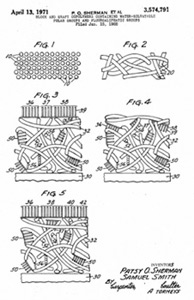 Sherman and Smith did extensive research on the compound over the next few years. This research led to the development of the fabric stain repellent and material protector known as Scotchgard. The product was first available in 1956 but it was not until 1971 that they received a patent for the product.
On April 13, 1971, Smith and Sherman were granted U.S. patent #3,574,791 for Block and Graft Copolymers Containing Water-Solvable Polar Groups and Fluoroaliphaitc Groups.
For her innovative contributions, Sherman was inducted into the Minnesota Inventors Hall of Fame in 1983. Together Sherman and Smith hold 13 patents in fluorochemical polymers and polymerization processes.