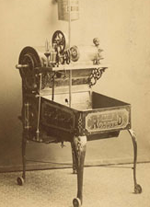 The history of popcorn making and corn popping machines have seen much improvement. Advancements have allowed us to efficiently pop our favorite snack just in time for that movie. In the past, many methods had been executed to pop corn as a treat. One simple way was placing kernels over a fire on a hot rock. As the impact of the heat increased on the kernels, they would pop in different directions. People would chase after the pieces in order catch and enjoy the taste of this snack. Sadly, many of the corn kernels were charred. Luckily, there are easier ways to obtain this delightful goody and it began with the world's first commercial popcorn machine.
Charles Cretors is accredited as the inventor of the first commercial popcorn machine. He first received United States Patent 506,207 on October 10, 1893 for improvements on peanut-roasters or corn-popper.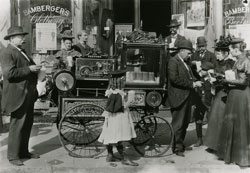 As an ambitious man, Cretors owned a bakery, confectionery shop, and founded C. Cretors & Co. At the time of his confectionery shop, Cretors had bought a peanut roasting device to broaden the selection of his available products. Disappointed with the functioning of the gadget, he made several alterations to the device. Cretors had invented a steam powered machine that could roast peanuts and also pop corn in oil. He popped the kernels in a mixture containing butter, salt, and lard. This combination limited the amount of smoke that was produced, could withstand the 450 degree temperature and was a great tasting seasoning. Cretors' popcorn became more popular than his roasted peanuts.
Cretors relocated to Chicago from Decatur, Illinois and moved his cart business to the Midway of Chicago's Columbia Exposition. To test his product, the inventor obtained a peddlers license on December 2, 1885 to sell his steam engine driven treats in a cart in front of his store. At first, Cretors gave free samples to the community and eventually had a steady clientele. It was hard to resist the smell of freshly popped popcorn and roasted peanuts. Cretors' invention for peanuts and popcorn was well received by both customers and retailers.
The first popcorn machine models were small and designed so they could be easily maneuvered on public streets. By 1893, Cretors' machine could roast 20 pounds of coffee, 12 pounds of peanuts, pop corn and bake chestnuts. Unlike other roasters, Cretors' machine provided consistency with corn popping and each batch was the same. A small clown, called the Toasty Roasty Man, served as a merchandiser and his purpose was to crank the tumbler of peanuts. As a tribute to one of the most highly consumed snacks, the US Postal Service issued stamps of Creators' 1902 popcorn machine in 1988. Creators remained the leader in the popcorn machine industry for several decades.