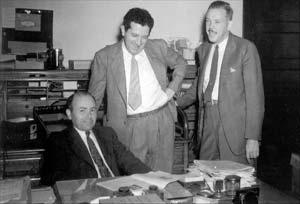 Marshmallow Peeps are a stable of Easter Baskets all over the country. This delicious or maybe disgusting candy is made from marshmallows, sugar, gelatin and caranauba wax. These sugary treats were brought to consumers on a large scale in 1954. But their story starts before that.
Russisan native Sam Born moved from France, where he learned to make chocolates, to the United States in 1910. In 1917, Born opened a small store in New York City selling chocolate and other confections. There he invented a machine for automatically placing sticks in lollipops.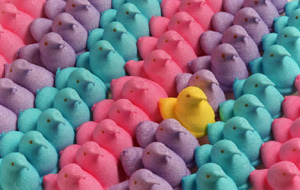 Later Born relocated his business to Bethlehem, Pa and renamed the company Just Born. In 1953, Just Born bought Rodda Candy Company, a local Pennsylvania candy company. Just Born acquired Rodda for their ability to make Jelly Beans but then became fascinated by three-dimensional marshmallow Easter chicks made by Rodda.
When Just Born acquired the company, it took 27 hours to produce one chick. Each was hand squeezed into the chick shape and then the eyes were painted on. Sam Born's son, Bob, created a machine that would mass-produce the marshmallow chicks. Production time was cut to only six minutes. It was this invention that made Just Born the largest marshmallow candy manufacturer in the world.
The Just Born company now produces 4 million Peeps a day. On Easter day alone, 6 million Peeps and Bunnies are consumed.