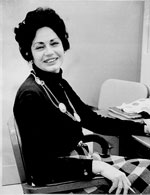 Liquid Paper was invented by a bank secretary form Texas in 1951. Bette Nesmith Graham, mother of of Monkees member Michael Nesmith, concocted the first correction fluid in her kitchen with tempera paint and a blender. Her second job as painter of holiday windows at the bank was the inspiration behind her invention. Graham noticed "with lettering, an artist never corrects by erasing, but always paints over the error. So I decided to use what artists use. I put some tempera water-based paint in a bottle and took my watercolor brush to the office. I used that to correct my mistakes."

For the next five years, Graham secretly used her paint to correct her typing mistakes. Another secretary saw her using it and asked for some. She put a bit in a green bottle on which she wrote "Mistake Out". Soon all of the secretaries at the bank were asking for some of her new product.
In 1956, Graham founded the Mistake Out Company. She worked from her kitchen evenings and weekends making small batches of her improved correction fluid. Her son and his friends would help her fill the bottles. Still, with a full time job at the bank she had a limited amount of time to devote to the business. Soon that changed. Ironically, she was fired from her typing job for a mistake she did not manage to correct. Graham then devoted all of her time to creating a successful business she continued to run out of her kitchen.
In 1968, the company, which had been renamed to Liquid Paper, moved into its own plant and corporate headquarters with 19 employees and automated operations. One million bottles of liquid paper were sold that year. In 1975, the company moved again to a much larger facility in Dallas. The new equipment could produce 500 bottles of Liquid Paper a minute. In 1976, the company produced 25 million bottles of correction fluid and employed 200 people. Graham sold the company to Gillett in 1979 for $47.5 million dollars. She passed away in 1980 leaving her estate to charitable organizations and her son.
In 2000, Liquid Paper was acquired by Newell Rubbermaid. Today, Liquid Paper is produced in bottles, pens and tapes in many colors.