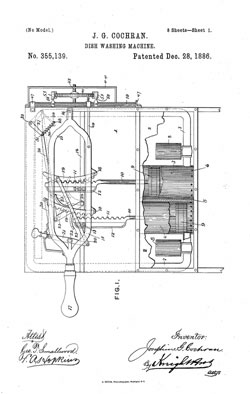 Josephine Cochran was issued Patent No. 355,139 on December 28,1886 for a dish washing machine. Cochran was a wealthy woman in Illinois who frequently hosted dinner parties. She became frustrated when her servants would chip or break her heirloom china so she began washing her own dishes. She was upset with the indignity of having to wash her own dishes and decided that there must be a better way. Since no one else had invented something, she was going to do it herself.
Cochran set to work on her design, staying home from a vacation with her ailing husband. She began by measuring the dishes. She then built wire compartments to fit either cups, plates or saucers. The compartments were placed on a wheel which was turned by a motor inside a watertight metal box. Hot soapy water squirted up in and rained down on the dishes cleaning them.
After her husbands death, Cochran was left with little money and many debts. She hired a local mechanic, George Butters to help her built her designs. They constructed the first dishwashing machine and installed it in Cochran's kitchen.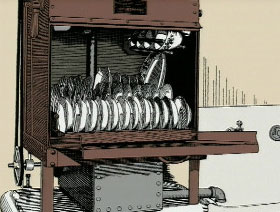 Cochran's friends were very impressed with her new dishwashing machine. She made these machines for many of them and they talked about the machines enthusiastically. Soon she was receiving orders from restaurants and hotels in Illinois. She established the Garis-Cochran Dish-Washing Machine Company, naming it for her father and husband, and the company's machines were built at a contracted factory under the supervision of Butters.
In 1893, Cochran had her big break at the World's Columbian Exposition in Chicago. Her machine was showcased and won top prize for "best mechanical construction, durability and adaptation to its line of work." Cochran opened her own factory in 1897. Butters was her foreman and chief mechanic overseeing three other employees. After Cochran's death in 1913, Hobart Manufacturing Company purchased her company. The company changed names and hands until 1940 when it became Kitchen Aid.