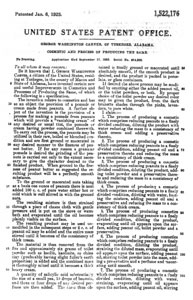 On January 6, 1925, George Washington Carver was granted patent #1,522,176 for a cosmetic and processing of producing the same. This cosmetic was a cream made from peanuts. In the patent, Carver describes this as a "vanishing cream of any desired or usual tint."
Carver has been credited with discovering over three hundred different uses for peanuts and hundreds of different uses for soybeans, pecans and sweet potatoes. His discoveries include bleach, fuel briquettes, instant coffee, synthetic rubber and wood stain. Despite all of these inventions, Carver only applied for and was granted three patents. His other two patents were #1,541,478, granted on July 9, 1925 and #1,632,365 granted on July 14, 1927 for paints and stains produced from clay.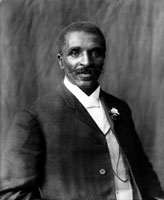 George Washington Carver was born in 1864 near Diamond Grove, Missouri on the farm of Moses Carver. He was born into difficult and changing times near the end of the Civil War. Confederate raiders kidnapped Carver and his mother from the Carver farm. After the end of the war, Moses and Susan Carver reclaimed George and he was raised on their farm as part of the family.
Segregation required Carver to move away from his home at twelve years old to begin his formal education. He moved to Newton County, Missouri and worked as a farm hand while attending a school open to black students. He then attended Minneapolis High School in Kansas. Acceptance to college was also a struggle because of segregation. At the age of 30, he became the first black student to attend Simpson College in Indianola, Iowa. Because the school did not offer science classes, Carver later transferred to Iowa Agricultural College. He received a Bachelors of Science in 1894 and a Master of Science degree in 1897.  He became the head of the agricultural department at Tuskegee Institute.
It was at Tuskegee that Carver did his research with various plants and vegetables including peanuts. This research gained international attention but Carver did not profit from most of his products. He gave his discoveries freely to help mankind. One of the most important agricultural contributions was crop rotation. Southern farms became less dependent on cotton and were able to farm multiple crops for which Carver discovered profitable uses.
About his ideas Carver would say: "God gave them to me. How can I sell them to someone else?"