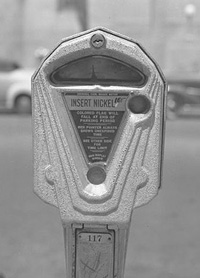 Carl Magee was a member of the Oklahoma City Chamber of Commerce Traffic Committee and was assigned the task of solving the parking problems in Oklahoma City. People that worked in the down area were parking on the streets all day which left very few spaces for shoppers and other visitors to the business district.
The solution would be to install parking meters that would charge for the use of parking spaces and force turn over of the spaces that would otherwise be filled all day by one car. The parking meters would also generate revenue for the city.
Magee built a crude model and then enlisted the help of the Oklahoma State University Engineering Department. A contest to built a working model ran from February 7 to May 6, 1933. Several students entered but there were no acceptable working submissions. Professor H. G. Thuesen began working on the project with the help of George Hale, a former student. Magee, Thuesen and Hale created a working parking meter. Magee received patent # 2,118,318 for a coined controlled parking meter on May 4, 1938.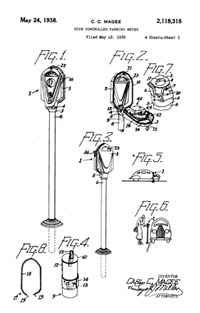 The world's first parking meters were installed in Oklahoma City on July 16, 1935. One hundred seventy-five meters were installed and tested on fourteen blocks in Oklahoma City. When the system was proven to be successful additional parking meters were places all over the downtown area. Magee's company Dual Parking Meter Co. manufactured these devices which Oklahoma City purchased for $23.00 a piece.
The idea for parking meters took off and soon meters were installed in cities all over the United States. By 1951, one million parking meters could be found on city streets in America. Today there are an estimated 5 million parking meters in the United States.
So the next time you feed a parking meter, remember the nickname "the coin gobbler".